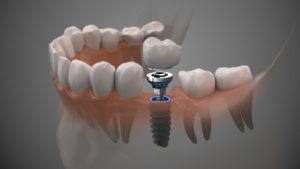 If you're a longtime denture wearer, you may be considering the move to dental implants. It makes sense, as they are the most permanent method of tooth replacement and enable patients to eat, speak, and smile more confidently.
Before you move forward, however, you must be wondering how they are going to feel. Fortunately, an implant dentist in Barton City is here to share what you can expect.
What Is a Dental Implant?
Normally made of titanium, a dental implant is a screwlike post that's inserted into the jawbone during surgery. It will be hidden under the gums and the dental restoration that it will eventually support. Over several weeks or months, a dental implant fuses with your jawbone, which allows it to hold your new teeth firmly in place while also stimulating your jaw.
Do Dental Implants Feel Like Natural Teeth?
After having dental implants placed, some patients report feeling a strange sensation while attempting to eat. This is to be expected during the healing process. Over time, you'll adjust to your new smile and become more comfortable while eating. Eventually, your dental implants will feel like having your natural teeth again! You'll be able to enjoy foods you once thought you might have to give up.
What Are Some Benefits of Getting Dental Implants?
There are several reasons you'll be happy with your decision to get implants, such as:
Unaffected Biting Power: It can be difficult to bite into hard foods when you have dentures, so you must modify how you eat. That's not a problem with dental implants since your biting power will not be affected at all! You'll be able to enjoy all the same foods you did before you had missing teeth.
Feel More Comfortable: Because implants fuse with surrounding bone tissue, they offer a long-lasting, stable foundation for dental restorations that replace your teeth. While other tooth-replacement methods rest upon the top of your gums, your restorations are permanently attached to your implants. No more worrying about dentures slipping and sliding in your mouth.
Fully Restored Tooth: Dental implants fuse to your jawbone via a natural process called osseointegration and serve as a replacement for your tooth roots. In some cases, you may need to wait for the fusing process to finish before you receive a crown, but it's a small price to pay for a permanent solution.
Match Your Natural Teeth: Dental Implants are custom-made for each patient's unique smile to ensure they feel just like natural teeth. Your dentist works to design implants that match the color of your surrounding teeth and fit perfectly in the gap so that only the two of you know which teeth are implants.
Easy To Care For: Dental implants don't require you to buy any special products to clean them. You just brush and floss as you would with your natural teeth.
Are you ready to leave your dentures behind and take your smile to the next level? Contact your implant dentist in Barton City and schedule a consultation. It's the first step to a return to teeth that feel natural.
About the Practice
At Healthy Smiles Dental Care, we have a team of specialists who pool their expertise so that we can offer many services under one roof. We understand the cost of dental care is a common concern. We are in-network with many major insurance companies and willing to file claims for other plans. You can ask about third-party financing options, plus we offer an in-house savings plan. If you are considering dental implants, we can place and restore them in our office. To schedule your consultation, visit our website or call (989) 736-7000.