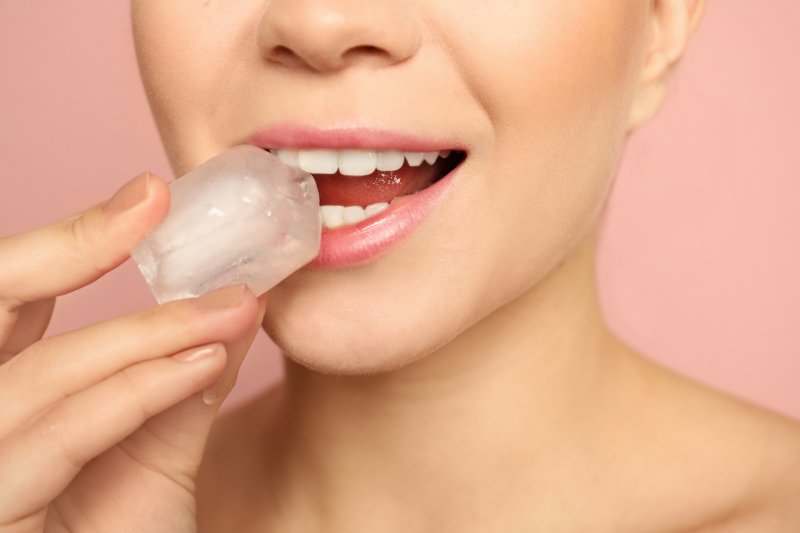 During summer, there's no better way to cool down than with a refreshing, ice-cold beverage. Some people even like to munch on the leftover ice cubes after finishing a drink. Are you guilty of this habit? It may seem so harmless, but it can do much more damage than you think. Your emergency dentist in Barton City explains the dangers of chewing on ice and shares tips for curbing the habit.
Why Do People Chew on Ice?
There are many reasons why people may chew on ice. Some might do it out of boredom or as a form of stress relief, others because they're iron deficient. Well, there's a scientific name for the compulsive consumption of ice or iced drinks – pagophagia. It's the most common form of pica, the medical term for craving or chewing on items that have little or no nutritional value (i.e., ice, clay, dirt, chalk).
Compulsive ice chewing is a prevalent symptom of iron deficiency anemia. Studies suggest that anemics are compelled to chew on ice because the coolness of the ice cubes soothes oral inflammations caused by iron deficiencies.
The Dangers of Chewing on Ice
Most people have developed the mindless habit without realizing how damaging it can be. Chewing on ice can cause cracked or chipped teeth, enamel erosion, sore jaw muscles, and even problems with existing dental work like fillings, crowns, and veneers. Dental damage can cause your teeth to become sensitive to extreme temperatures and leave them more prone to cavities and decay.
Tips for Breaking an Ice-Chewing Habit
Does quitting an ice-chewing habit sound unimaginable to you? Don't worry – here are a few tips and tricks you can try to help you out:
Determine a cause. If you find it impossible to resist chewing on ice, you may have an iron deficiency. Check with your doctor to rule out any underlying causes. Iron supplements and other interventions are available for those who are anemic or have pica.
Replace with other crunchy foods. If you're simply craving that crunch, opt for a healthier alternative! Tooth-friendly foods like apples, carrots, celery, and cucumber are great ways to get your fix.
Let it melt. By letting the ice cubes slowly melt in your mouth, you can still enjoy them without putting your teeth at risk. Plus, it'll last much longer!
Go for a slushie instead. Can't kick the habit? Consider getting a slushie instead. The finely shaven, semi-melted pieces of ice can satisfy your cold craving without harming your teeth!
Chewing on ice is a common habit that can leave a lasting mark on your oral health. Are you ready to quit? Using these tips, you can protect your teeth and maintain a strong, healthy smile for a lifetime!
About the Practice
At Jewel Lake Dental, we offer comprehensive and high-quality services the entire family can enjoy. Our team of skilled specialists takes the time to listen to your concerns and personalize your treatment accordingly. If you have any questions or need help breaking an ice-chewing habit, visit our website or call (989) 736-7000 to speak to an expert.