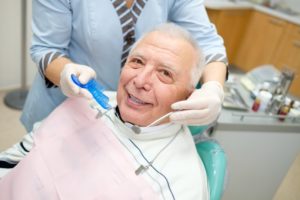 If you're currently wearing dentures, you may be ready for an upgrade. Maybe, you're living with one or more of your teeth missing, and you want your functionality restored. No matter what your motivation is, dental implantation offers a reliable and lasting solution. Continue reading to learn about the basics of dental implants so you can make a more informed decision about the future of your oral health.
What are Dental Implants?
Made from durable titanium (a biocompatible material), dental implants are unique in that they are the only form of tooth replacement that attach beneath the gum line and can be used to replace any number of teeth. The procedure involves a cylinder-shaped post being surgically inserted into the underlying jawbone, the two eventually fusing through a process called osseointegration. This helps to create a lasting and sound foundation.
How the Dental Implant Process Works
Dental implantation has a 95% success rate, and it can partly be attributed to the fact that dentists take a methodical and careful approach to each facet of the procedure. Here are the basic steps that are taken:
Initial Assessment – Before any work commences, you'll visit your dentist for a consultation and to have your smile evaluated. He or she will check to make sure you have enough healthy jawbone density to support a dental implant.
Restorative Care – Gum disease is a common issue encountered before patients can receive a dental implant. If you're suffering from this condition or any other issues, you'll need to have it treated before moving forward.
Implant Placement – Before the implantation procedure starts, the dentist will make sure that your mouth is completely numb. Next, a space will be made for the implant to be inserted. After its placement, the dentist will repair the gums to allow for healing.
Abutment Addition – After your jaw and gums have healed sufficiently, you'll return to have an abutment attached to the implant, which will act as an anchor for the final restoration.
Restoration Placement – The final step is for the dentist to place a custom-designed restoration (crown, bridge or denture) to leave you fully functional.
The Benefits of Dental Implants
It's not uncommon for denture wearers to have to endure slips that can lead to gum irritation and the development of painful sores. Some patients also experience their dentures embarrassingly dislodging. For those who wear traditional bridges, the changes in the jaw and facial structure can lead to an improper fit.
Ignoring smile gaps can be even more problematic, as the surrounding teeth can be subject to shifting. Furthermore, there can be jawbone loss that can lead to even more oral health issues.
With dental implant placement, you can avoid having to deal with the above challenges. To learn more, start by meeting with a local dentist. The appointment could be likened to "dental implants 101." Therefore, you can ask any questions you may have so you can comfortably move forward with rejuvenating your smile!
About the Author
Dr. Steven Rodriguez earned his dental degree from the University of Michigan. To stay abreast of the latest advancements in dental implantation and technology, he takes several hours of continuing education annually. Dr. Rodriguez gives patients a fresh new start to life to placing dental implants at Healthy Smiles, and he can be reached for more information or to schedule a visit through his website.