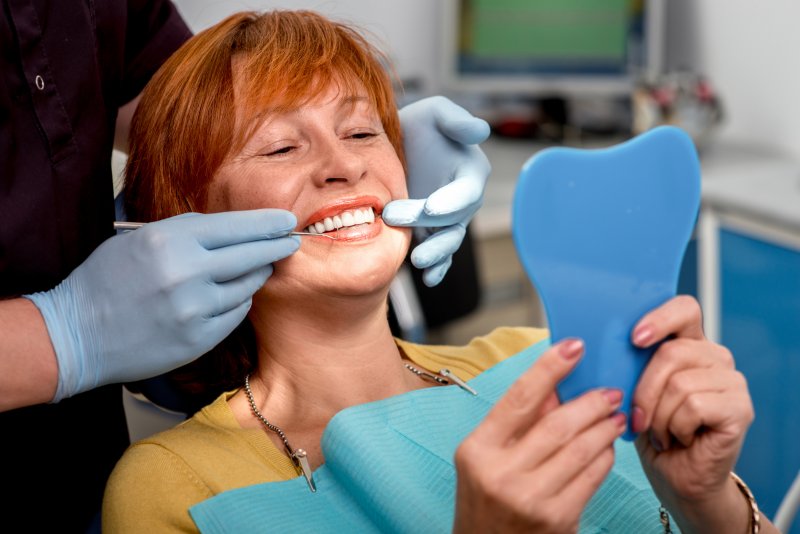 One of many great things about living in today's world is the fact that missing teeth can be a thing of the past. You no longer need to settle for a smile full of gaps. There are several different tooth replacement options out there, with a preferred method being dental implants. They have become more and more popular throughout the years because of their many benefits, including a boost of confidence. Continue reading to learn about the many different ways that dental implants can improve your confidence.
Dental Implants Make You Appear More Youthful
If you are struggling with tooth loss, your jaw is not getting the stimulation it needs from regular chewing in order to stay strong. Ultimately, the bone will begin to deteriorate over time, causing you to be left with wrinkled lips and sunken cheek. This can add around 10 years to your appearance. Dental implants are the only tooth replacement option out there that replaces the root of the missing tooth, therefore preventing these unfortunate side effects of tooth loss.
Improved Speech
When you have gaps in your smile, it can be challenging to speak clearly. Even when you have dentures, if they aren't fitting exactly how they should, they can cause you to mumble and slur your words. On the other hand, implants do not cause this to happen. They allow you to speak clearly without concerns of your teeth slipping or sliding around. After they heal completely, they are just as stationary as your natural teeth.
Eat Anything Without a Struggle
Eating some of your favorite foods can be difficult when you are missing teeth. Even if you have dentures, you will not have nearly as good bite power as you would with dental implants. After the implant completely fuses to the jawbone, also know as 'osseointegration,' you won't have any eating restrictions. They restore up to 90% of your natural chewing ability. This way, you won't have any trouble eating your favorite foods.
They Last a Long Time
Tooth loss is permanent, so your tooth replacement should be too. Dentures only last around 7 to 10 years before needing to be replaced. Dental bridges usually last around 15. On the other hand, dental implants can last upwards of 25 years with proper care. You may never have to worry about your missing teeth ever again!
If you're looking to boost your self-esteem, dental implants may be the answer. Ask your dentist if you'd make a good candidate. You'll have your smile back before you know it!
About the Author
Dr. Steven Rodriguez is an experienced dentist who has been working in the field for three decades and counting. He earned his dental doctorate from the University of Michigan and is committed to continuing education in order to expand his skillset. This includes advanced training in dental implants. For more information on dental implants or to schedule a consultation at his office in Barton City, visit his website or call (989) 736-7000.